Yard Sentry Lighting
Call today for a
free estimate
Miami Dade
Broward
Palm Beach
Brevard
Duval/St. Johns
Bringing bright ideas to light
Who We Are & What We Do
Years of experience have enabled the design professionals at Yard Sentry to become the masters of outdoor luminescence. Harnessing the brilliant power of light, our company's emphasis on design has become the standard of excellence within our industry. It matters little what scale we work on, as residences and businesses of any size benefit from the artistry of our expert designers.
Continuously exploring new ways to creatively harness light, we've built an extensive portfolio of inspiring images. Each custom project is a work of sheer beauty, creating spectacular outdoor theater for everyone within the line of sight of our work.
If you want to capture the transformative magic of light, we welcome your call. At our very first meeting you will see why we have become the leader in our field. Yard Sentry light installations immediately add value to your home or business and elevate your property above the ordinary - adding layers of luminous beauty, depth and dimension every time that day turns to night.
On Behalf of the Environment
Long before it became a cause célèbre, Yard Sentry was environmentally conscious, continually investigating and employing "green solutions" wherever possible. Today we offer an entire line of LED products and LED bulbs for both indoor and outdoor use. In fact, we are proud to be one of the few sources within our industry to create custom designs using LED fixtures.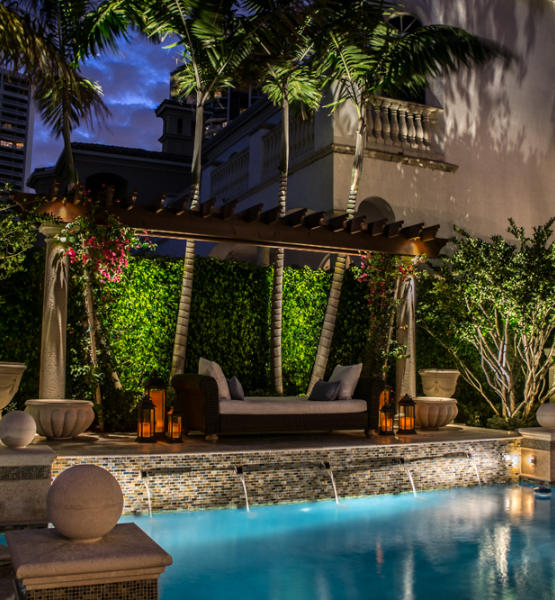 I felt confident from the beginning that I was going to be satisfied with the products and service you offer. Derek and his installers were professional and courteous throughout! Thanks!

- Mark Weider